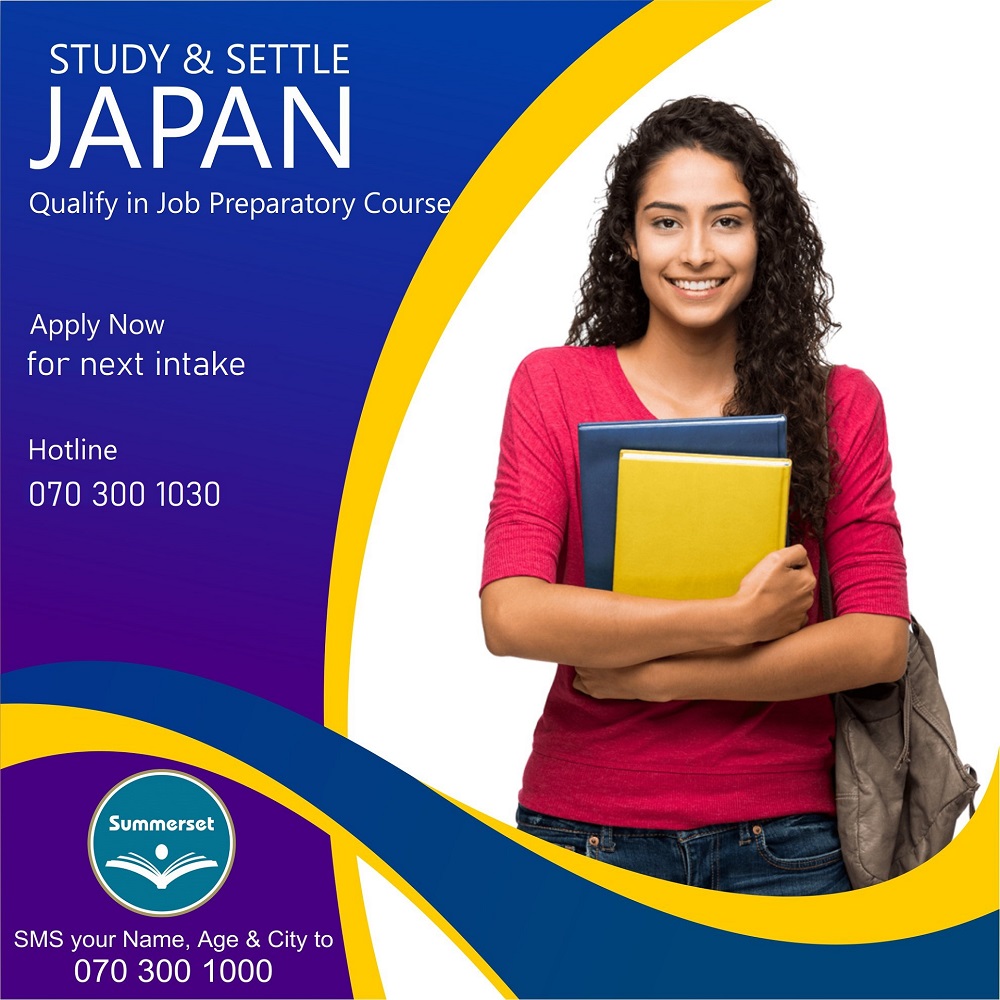 General information
| | |
| --- | --- |
| Available Courses options | Japanese Language |
| Minimum Qualifications Required | G.C.E. O/L Sitting ( This will be depending on the course which you have selected) |
| Age | Above 18 |
| Study Time Period | Full Time | Part Time (for 6 Months to 2 Years) |
| Medium | All courses will conduct in Japanese medium |
| Education requirements | GCE O/L |
Colleges
Tokyo, Kyoto, Nagoya, Fukuoka
Course Duration
| | |
| --- | --- |
| Japanese Language Program - JLPT - N5 Level (easiest level) | 250 hours to 400 hours of learning |
| Japanese Language Program - JLPT - N4 Level | 575 hours to 1,000 hours of learning |
| Japanese Language Program - JLPT - N3 Level | 950 hours to 1,700 hours of learning |
| Japanese Language Program - JLPT - N2 Level | 1,600 hours to 2,800 hours of learning |
| Japanese Language Program - JLPT - N1 Level (difficult level) | 3,000 hours to 4,800 hours of learning |
| Beginner level to Advanced level (JLPT N5 Level to JLPT - N1 Level) Full time course | 18 months to 24 months |
Available Courses
College Course Fees
| | |
| --- | --- |
| Aplication Fee | one time fee - JPY 20,000 to JPY 35,000 (depends on the College you selected) |
| Admission Fee | one time fee - JPY 35,000 to JPY 55,000 (depends on the College you selected) |
| Insurance fee | Arround JPY 10,000 per year |
| Beginner level to Advanced level (JLPT N5 Level to JLPT - N1 Level) Full time course | Full course fee JPY 550,000 to JPY 850,000 (depends on the college you selected) |
| Insurance fee | Arround JPY 10,000 per year |
| Beginner level to Advanced level (JLPT N5 Level to JLPT - N1 Level) Full time course | Full course fee JPY 550,000 to JPY 850,000 (depends on the college you selected) |
*Above amounts will vary from College and the course you are selecting Installment payment option is available.
Payments Required
| | |
| --- | --- |
| College Application Fee (Non refundable) | JPY 20,000 to JPY 35,000 (depends on the College you selected) This payment required with the completed documents from the student |
| College Admission Fee (Non refundable) | JPY 35,000 to JPY 55,000 (depends on the College you selected) This payment required after student selcted for admission by the Japanese College |
| Course Fee | Full course fee JPY 550,000 to JPY 850,000 (depends on the college you selected) This payment required after Visa Eligibility certificate granted by Japanese Immigration |
| Visa Application Fee | Double-entry or multiple-entry visa: 6,000 Yen, (required to pay at the time of application hand over to Japanese Embassy in Sri Lanka | VFS) |
| Documentation Fee / Consulting Fee | Documentation Fee LKR 10,000 / Consulting Fee LKR 150,000 (required to pay after visa) |
| Air Ticket Fee | LKR 150,000 upwards |
*Notes:
1. Course Fee, School application fee and School Admission fee will differ according to the college and course which you select.
2. Air ticket fee will be differ according to the air line.
Total Cost
After receiving the offer letter from Japanese College, you are required to pay college admission fee and then Summerset will submit your visa application to Japanese College
Upon receiving successful Visa Eligibility Certificate, you are required to pay course fee (direct payment via bank TT to College)
You should have minimum of JPY 100,000 in your hand for your Initial expenses in Japan. This will help to cover the accommodation + Food cost in Japan at least for 2 months.
No dependant Visa allowed in Japan.
Parents, Dependants can visit Japan (Visa required)
Other Charges
Students must have at least JPY 100,000 in there hand for initial expences when they arrived in Japan.
Accommodation and Cost of living in Japan per month
Summerset will be arranging accommodation according to the preference of the student.
Single room in a Apartment will cost JPY 50,000 to JPY 70,000 and college hostel JPY 20,000 per month upwards.
Average food cost will be JPY 30,000 per month for self-cooking.
Intakes
January | April | July | October
| | | | | |
| --- | --- | --- | --- | --- |
| Enrollment date | January | April | July | October |
| Approximate Application Deadline | Early August (previous year) | Late October (previous year) | Early February | Late April |
| Application Submission at Immigration | Mid September (previous year) | Late November (previous year) | Mid March | Early June |
| Residency Grant and Payment | Early November (previous year) | Late February | Late May | Late August |
| Apply to visa at Embassy/Consulate | Early December (previous year) | Early March | Early June | Early September |
Financial Sponsor
Yes. Required.
Past 2 years Monthly Bank statements required. avarage Bank balance should be LKR 3 million.
If you dont have above, Then you can deposit LKR 5.5 million to any bank in Sri Lanka & required to show Sourse of fund with Proof of Documents.
Required to submit past 3 years Income Statements with Tax paid receipts.
Visa Interviews
Yes
Visa Type
Student Visa
Visa Period
Initially you will receive 3 months Entry visa to enter Japan and renewable till end of the full course, Visa renewal - When doing, the visa renewal attendance and the students performance will be considered by College & Japanese Immigration.
Part time or Full time job allowed ?
While you study in Japan, part time jobs are allowed.
Students that have obtained a work permission are allowed to work part time in Japan. Then you can work 28 hours per week on school weeks and 40 hours per week during semester breaks. Students are not allowed to take any jobs related to night clubs or adult entertainment. This even includes being a DJ or working as a dishwasher in a night club.
Most students work in shops or restaurants where you can earn around 1,000 Yen per hour. However it can be hard to find a job before you speak decent Japanese. The best paid jobs for students is often to work as a teacher in your native language. Either at a school or just give private conversation lessons in a café then it is not unusual to earn up to 3,000 Yen per hour.
The work permit is a sticker in your passport. To obtain it you must be in Japan on a student visa. The easiest way to get the permit is to apply directly at the immigrations in the airport when you first arrive in Japan. Then you can get it immediately. Otherwise you will be stuck in the Japanese bureaucracy where you will need several visits to the Immigration Bureau and at least 3 weeks processing time before you can get your work permit.
Transfer to other countries
Most of colleges offer students to transfer to other countries with their affiliate partner colleges upon successfully completion of the selected course with good marks & good attendance.
Required Documents
For Student
A completed Certificate of Eligibility Application Form (downloadable from the website of the Japan Immigration Services Agency)
Passport-size picture of yourself, with the following specifications:

Dimensions: 4cm x 3cm
Taken within the last three months
Plain and light-colored background, without any patterns and shadows
You must be starting straight ahead, with a neutral facial expression
Your face has to be fully visible
The picture must be good quality (focused, clear, and sharp)

Copy of Passport (Photo page color) Pages 2,3,4,5 (Passport must be valid more than 2 years)
Photos : 4.5 x 4.5 cm = 5 - light blue background
Birth certificate original Sinhala & English Translated by Department of Registrar.
Exam certificate originals G.C.E. O/L (& A/L if you have) Certificate – English Translate (Certified by Foreign Ministry)
Other educational certificates originals (if available)
Other Qualification certificates without gap
ID English Translation (Color copy)
School leaving certificate Original & English translation
SOP (Statement of Purpose)
Name Affidavit (if) any name defferences in passport & other documents.
For Sponsor
ID English Translation (Color copy)
Birth Certificate - Original & English translation
Business Registration - Original & English translation (or source of fund)
Tax Payment receipts for last 3 years
Bank Statesments for past 3 years & Bank Balance letter with Min balance equel to JPY 3,000,000 (saving account only)
Sponsor Affidavit / Sponsor Letter
Note :
This document list have made according to latest embassy document check list, Embassy may be change the document checklist any time with out prior notice, Student must provide documents according to new document checklist. All certificates should be certified by Foreign Ministry of Sri Lanka, All documents certified date should be within 3 months and strictly no spelling errors or any other errors
How Long Does it Take to Process an Application for the Japan Certificate of Eligibility?
The process for obtaining a Japan Certificate of Eligibility can take anywhere from one to three months. You cannot apply for the visa until you have received your COE, so make sure you start the application process well in advance.