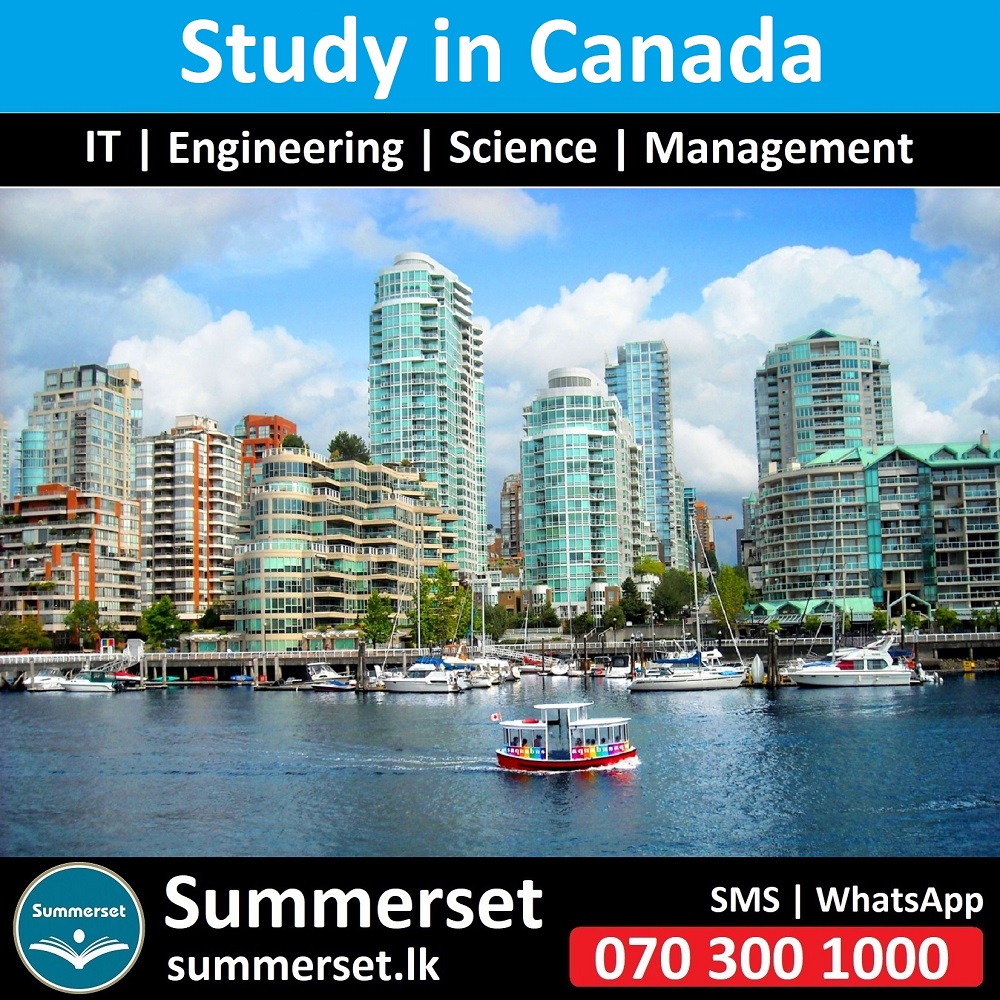 General information
Available Courses options
Diploma | Degree | Masters
Minimum Qualifications Required

Diploma : GCE O/L
Degree : GCE A/L
Masters : Degree

Age
Diploma : Below 28 years
Degree : Below 30 years
Masters : Below 35 years
Study Time Period
Full time
Medium
All courses will conduct in English medium
Language Requirements
IELTS , PTE, Dualingo
Foundation : IELTS 6.0/ 5.5
Diploma / Degree : IELTS 6.0 / 5.5
Masters / PG : IELTS 6.5 / 6.0
*** IELTS / PTE requirements could vary according to the program
Universities | Colleges
Universities
Acadia University
Algoma University - Sault Ste. Marie
Algoma University - Brampton
Brock University
Lakehead University
Lakehead University - Orillia
Thompson Rivers University
University Canada West
University of Manitoba
University of Regina
University of Windsor
Yorkville University - Vancouver
Yorkville University - Toronto
Colleges
Fanshawe College
Georgian College
King's University College
Seneca College
Saskatchewan Polytechnic
*** more than 100 institutes
Course Duration
| | |
| --- | --- |
| Diploma | 1 to 2 year |
| Degree | 3 - 4 years |
| Masters | 1 - 2 years |
| Top up Degree | 1 to 2 years |
Available Programs
Business / Accounting / Banking
Engineering - Civil / Construction / Electronics / Chemical
Bio Science / Bio Technology
Health Science / Public Science / Medicine / Nursing / Dental
Marine Engineering
Sciences / Maths & Statistics
Social Studies / Social Science / Psychology
Sport & Exercise
Tourism & Hospitality
Teaching / Education
And more..
University | College Course Fees
| | |
| --- | --- |
| Diploma | CAD 8,500 upwards per yaer |
| Degree | CAD 20,000 upwards per year |
| Masters | CAD 30,000 upwards per year |
*Above amounts will vary from University | College and the course you are selecting - Installment payment option is available.
Payments Required
University | College Admission | Registration Fee

(Non refundable)

Most of all Colleges are charging Admission or Registration Fee at the time of applying Visa

College Application Fee CAD 100 to CAD 300

*No Application Fee for Universities

Visa Application fee (Non refundable)
CAD 150 (Study permit for Canada - including extensions)
Documentation Fee / Consulting Fee
Documentation Fee LKR 10,000 / Consulting Fee - Totally FREE
Air Ticket Fee
LKR 150,000 upwards
*Notes:
1. Course Fee, University admission fee and course fee will differ according to the University | College and course which you select.
2. Air ticket fee will be differ according to the air line.
Total Cost
After receiving your Offer letter from the University, You are required to pay for 1st Semester fee via any bank in Sri Lanka to the University by direct TT payment.
After receiving necesery docuemnts from the University, You are required to pay AUD 630 to Australian Embassy in Sri Lanka for scheduling your Student Visa.
After receiving the Visa approvel From the Embassy you are required to pay for Air Tiket to any local travel agent.
You should have minimum of AUD 1,000 in your hand for your Initial expenses after you arrive.
Dependant Visa allowed. Need to apply separately.
Parents, Dependants can visit (Subject to Visa)
Other Charges
Accomadation Fee - On-Campus renatal: AUD 1,200 per month upwords, Shared rental AUD 800 per month upwords, Apartment rental AUD 1,200 per month upwords.
Accommodation and Cost of living per month
Summerset will be arrange accommodation according to the preference of the student.
Living costs in Canada are on the higher side with a guarantee of high quality of life. You would need between CAD 800 – 1,500 per month for most provinces, such as Quebec, Montreal and Ottawa. Vancouver and Calgary are some of the most expensive cities in Canada, where living costs can reach 2,000 CAD per month.
Accommodation Costs
You'll have many housing options to choose from in Canada, and an equally diverse price range. The main housing options for students in Canada are:
Student residences: CAD 250 – 625 per month
University-arranged homestays: CAD 400 – 800 per month
Rent & share an apartment: CAD 300 – 700 per month, prices for rent depend on location and facilities. If you choose to rent a studio | one-room apartment, you will required to pay over CAD 1,000 per month.
When you rent an apartment or studio, it comes with extra costs: Basic utilities (electricity, water, heating, garbage), CAD150 per month, Internet: CAD 50-70 per month.
Food costs
You won't spend too much on food bills, just around CAD 300 per month for shopping from the local supermarkets and groceries. Some of the cheapest supermarkets you can find all over Canada are Canadian Superstore, Walmart, No Frills.
If you wish to eat in a restaurant, you will have to pay around CAD 10 - 25 . A three-course meal for two in a mid-range restaurant will cost CAD 50 - 65.
Transportation costs
Students enrolled in a Canadian university, aged between 18 and 25, will benefit from discounts when purchasing the monthly transport pass.
The total price of a transport pass is CAD 90 per month, while a one-way ticket is worth CAD 3.
Taxis are also a common way of transport all over Canada and fares are between CAD 2 to 6 per km.
Intakes
January, May, August, September
Financial Sponsor
Required
Immigration, refugee, and citizenship Canada (IRCC) require a fund of about CAD10,000 for living expenses. This means you will be required to show a total of CAD 25,000 to support your application for your Canadian study permit.
You need to have this fund in your Bank account (LKR Equel to CAD 25,000)
This fund must have at least in your | Parants | Spouse (Sponcer) Account for the period of Six months prior to your Visa application.
You are required to submit source of funds for this savings.
You are required submit sourse of Income for last 2 years as evedence that you are in good financial background to study in Canada.
Visa Interviews
Yes. (You will be required to appear for a personal interview at the Canadian embassy or consulate)
Visa Type
Student visa (The F1 Visa)
The Canadian Government provides an opportunity to study in the country but as a prerequisite, you'll have to obtain a Study Permit and a Temporary Resident Visa (TRV). This is not a visa, it's a permit or a document issued by the Citizen and Immigration (CIC) which allows you to study in Canada. If you hold a study permit, you must remain enrolled and make reasonable and timely progress towards completing your course.
Your study permit is always accompanied along with a visitor visa or Electronic Travel Authorization (ETA). Please note that a study permit is a document that allows you to study in Canada while a visitor visa or ETA allows you to enter Canada. Your counsellor will help you access the latest information and connect you with authorised migration experts.
Visa Period
You will get a Multiple Entry Visa for the total period of the course.
More information & Apply online Visa :
Part time or Full time Job allowed ?
International students allowed to work 20 hours per week (For more details access to respective immigration website)

More information:
Transfer to other countries
Most of Universities | colleges offer students to transfer to other countries with their affiliate partner Universities | colleges upon successfully completion of the selected course with good marks & good attendance.
Required Documents
GCE. O/L Certificate–English Translate (Certified By Foreign Ministry)
GCE. A/L Certificate –English Translate (Certified By Foreign Ministry)
Copy of Passport - 1st 4 pages - Color
Birth Certificate English Translate
Work Experience Letters (if you have)
Copy of Spouse and Child Passport (if apply)
Other Certificates to cover the gaps (need exact course start and end date)
Photos - Passport Size with white background (Neatly Dressed)
Sponsor Bank Balance Confirmation Letters with min 6 months statements
Detailed CV with academic details/work experience with exacts dates (start - end dates)
Study Plan (SOP)
Police clearence certificate
* Pls contact us for more details.
* one set of documents must be attested by Notary Public as true copy