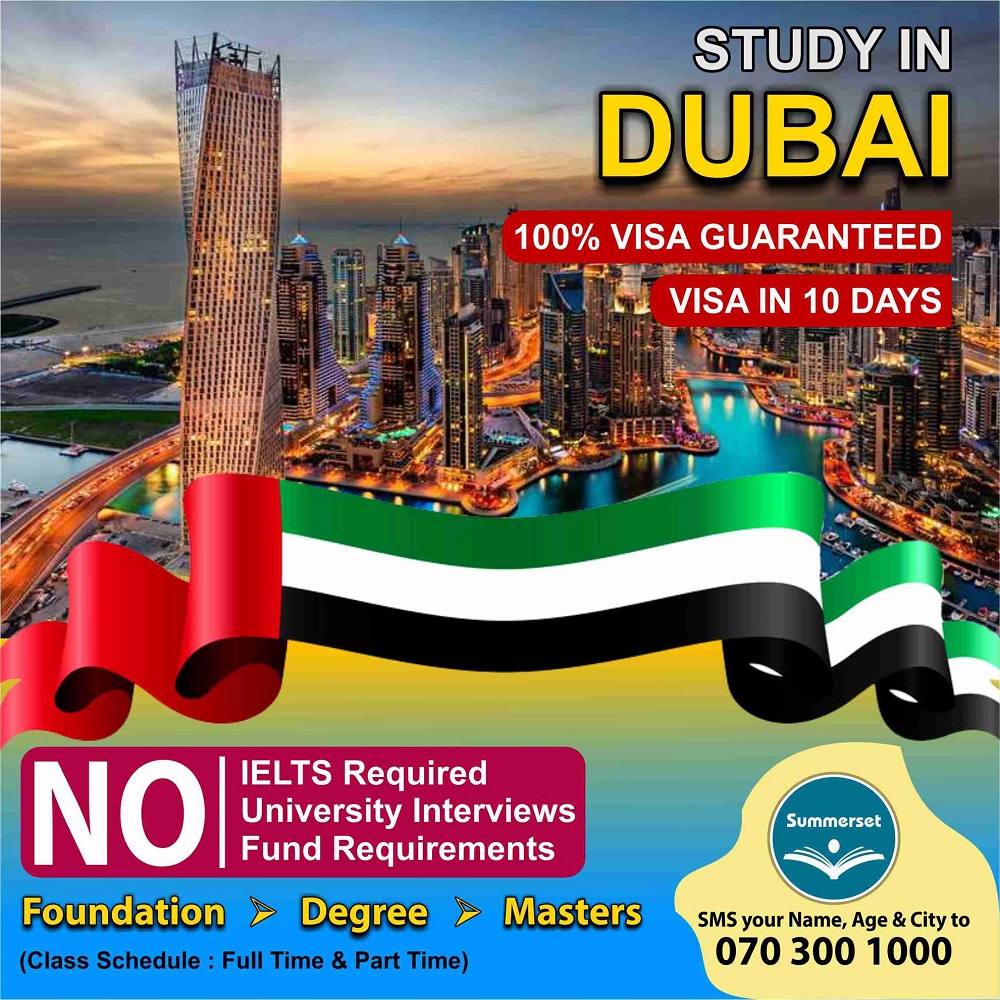 General information
Available Courses options
Foundation / Degree / Post Graduate / Masters / PHD
Minimum Qualifications Required
Foundation : G.C.E O/L
Degree : G.C.E A/L
PG / Masters: Bachelors Degree
PHD : Masters Degree
Age
18 to 40
Study Time Period
Full Time / Part Time
Medium
All courses will conduct in English medium
Education requirements
Basic Knowledge of English
Universitys
Manipal Academy of Higher Education - Dubai Campus
Amity University Dubai
Murdoch University Dubai
University of Wollongong in Dubai
Course Duration
| | |
| --- | --- |
| Foundation | 1 year |
| Degree | 3 to 4 years |
| Post Graduate | 1 to 2 years |
| Masters | 1 to 2 years |
| PHD | 3 Years & upwards |
Available Courses
Engineering & IT
Business / Hospitality
Design & Architecture
Media & Communication
Life Sciences
Department of Art & Humanities
University Course Fees
| | |
| --- | --- |
| Foundation Course | AED .... & upwards (USD .... & upwards) per year |
| Diploma Course | AED .... & upwards (USD .... & upwards) per year |
| Degree | AED 35,000 & upwards (USD 10,000 & upwards) per year |
| Masters | AED 55,000 & upwards (USD 10,000 & upwards) per year |
| Postgraduate Diploma | AED ... & upwards (USD .... & upwards) per year |
*Above amounts will vary from University and the course you are selecting - Installment payment option is available.
Payments Required
| | |
| --- | --- |
| College Admission / Visa payment Fee (Non refundable) | AED 650 to AED 850 (Depend on the University) |
| Course Fee | As mentioned above |
| Consulting Fee (After Visa) | Totally FREE |
| Air Ticket Fee | Rs. 60,000 upwards |
*Notes:
1. Course Fee, University admission fee and course fee will differ according to the University and course which you select.
2. Air ticket fee will be differ according to the air line.
Total Cost
After receiving the offer letter from Dubai University , you are required to pay University admission & Visa fee, then Summerset will submit your visa application thru Dubai University.
Upon receiving successful visa, you have to pay course fee for 1st Semester (direct payment via bank TT to University + Air Ticket payments to local travel agent.
You should have minimum of USD 500 in your hand for your Initial expenses in Dubai. This will help to cover the accommodation + Food cost in Dubai at least for 2 months.
No dependant Visa allowed in Dubai.
Parents, Dependants can visit Dubai (Required Entry Visa)
Accommodation and Cost of living in Dubai (per month)
Summerset will be arranging accommodation according to the preference of the student.
In a shared room, there will be 3 to 4 students from the similar gender and the cost is AED 1,000 to AED 1,200 per month for each student. Single room will cost AED 4,700 per month in City Center and University hostel AED 1,200 upward.
Average food cost will be AED ... per month for self-cooking.
Living costs for students in Dubai both on and off-campus is still a lot more affordable than all the other nations. For most students living in Dubai will cost an average of AED 1500 (USD 400 ) per month.
Intakes
September and February
Financial Sponsor
Not required
Visa Interviews
No Interview
Visa Type
Student Visa
Visa Period
Your Student Visa will be approved for 1 year from Dubai Immigration, It can renew upto end of the course period.
Visa renewal - When doing, the visa renewal attendance and the students performance will be considered by University & Dubai Immigration.
Part time or Full time job allowed ?
While you study in Dubai part time jobs are allowed & students will have the opportunity to work & earn while study with OJT offer (OJT = on job training).
Transfer to other countries
Most of Universitys offer students to transfer to other countries with their affiliate partner Universitys upon successfully completion of the selected course with good marks & good attendance.
Required Documents
Copy of Passport - photo page - Color
Birth Certificate English Translate (student and sponsor)
G.C.E. O/L Certificate–English Translate (Certified By Foreign Ministry)
G.C.E. A/L Certificate –English Translate Certified By Foreign Ministry)
Photos -Pass Port Size with white background (05 Nos)
Birth Certificate